As a subcontractor, there are two ways to add new bids to your Bid Board so that you can track all the bids for your company in one central location:
Manually create a new bid in your Bid Board
This article will teach you how to manually create a new bid in your Bid Board.


To create a manual bid invite

There are two ways to start manually adding a new bid:
Press

the "

N

" key on your keyboard while in your Bid Board.

Navigate to your Bid Board then click on the "+ Bid

Invite

" button.



A panel will open to the right of your page. Enter details about the bid you are creating. Click on "Show more fields" at the bottom to enter additional information about the bid.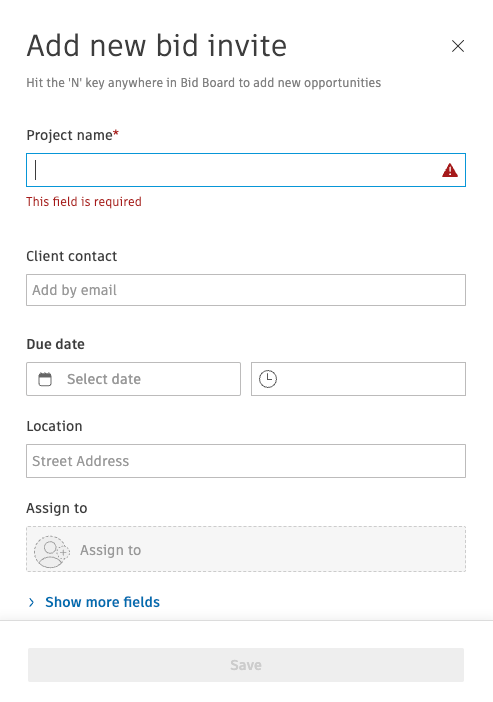 Please note the following:
The "Project Name" is required in order to create a bid.

The "Client contact" field will only take email addresses. If you search by email and this email is not in our system yet, you can add them. Click "Add contact details".



Enter in the name, email, company and office city for this contact. Once complete, click "Save" and you can continue filling out other bid information.




If you have multiple clients you are submitting your bid to, you can add multiple clients to create a group with multiple opportunities. Click on "Add another client".


BuildingConnected does not notify the client when their information is added. This information is only visible to your team.

Once complete, click "Save".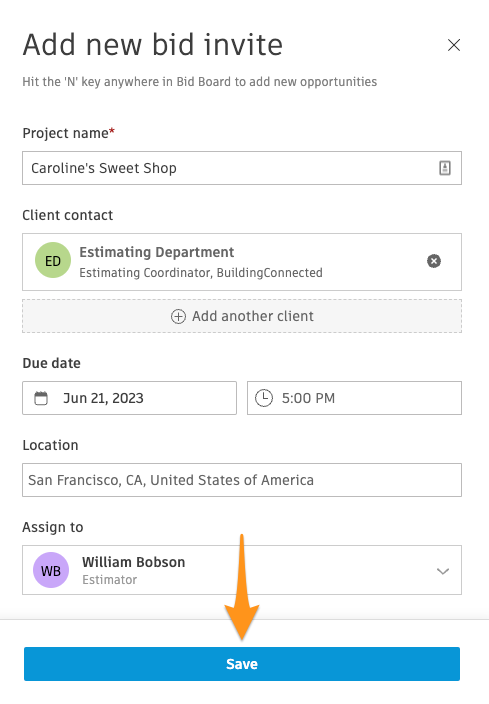 A notification will appear at the bottom right letting you know that the bid invite has been added. Click on "View opportunity" to be taken to the manually created bid.

All bids created in this workflow will have the "Manual" label.