Within BuildingConnected, you have the ability to suggest an edit on profiles within the network to flag potentially inaccurate information. If you notice that a profile has not changed despite your suggestion, it can help to first understand where your request went depending on which field you suggested an edit on.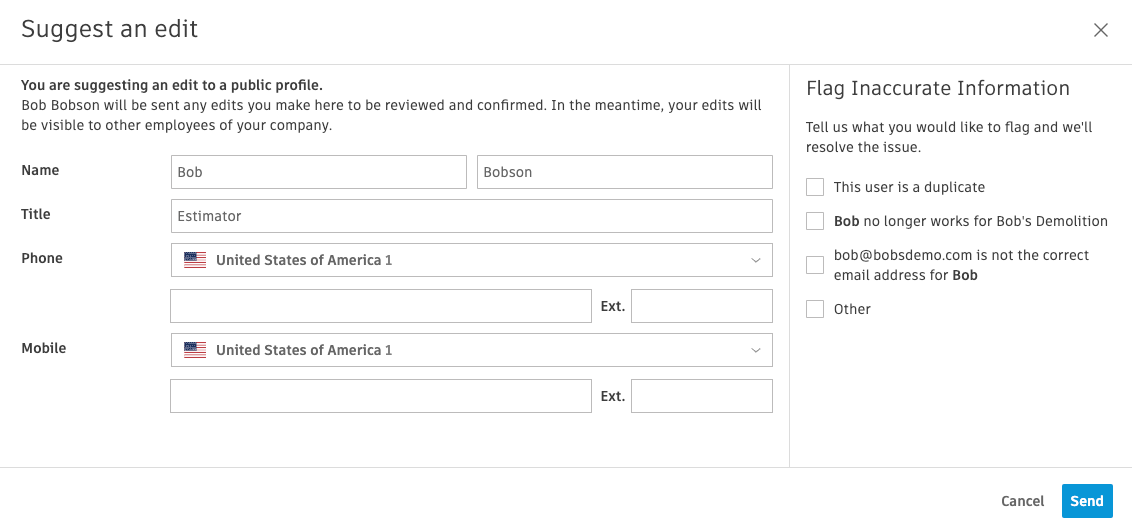 Left-Hand Side - "You are suggesting an edit to a public profile"

Any suggestions made on the left-hand side of the window will send an email notification to the office lead of the company or the target user. Therefore, this change requires the company themselves to confirm or deny the suggestion made.

However, you do not need to wait for their response. Your suggested edit will appear in the profile so that your team can use the information right away. You can hover over the clock icon to see that the field has a suggested edit and what the initial value was.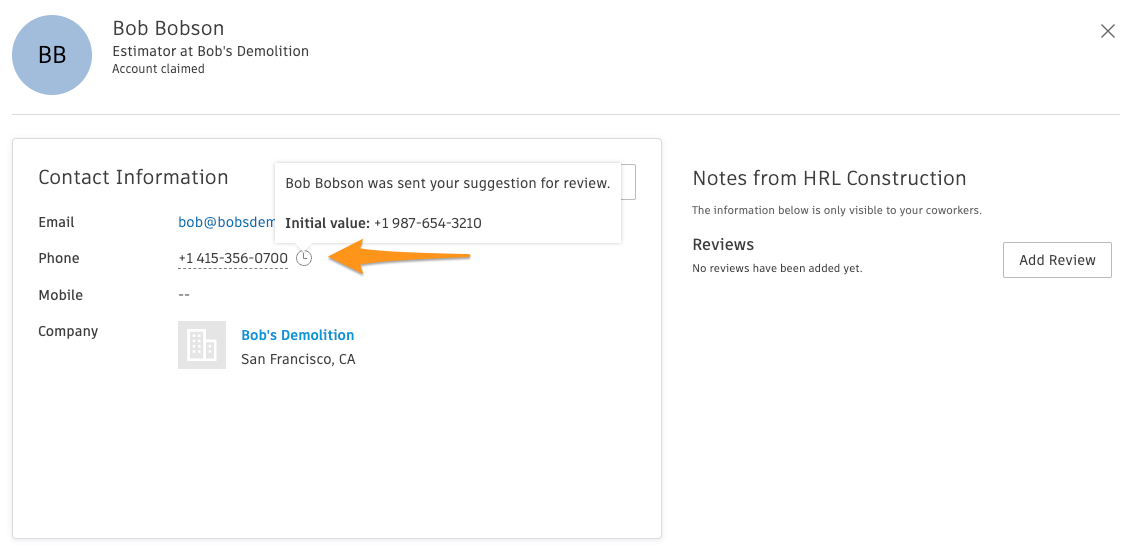 If you suggested the edit, a banner will appear when the company's contact accepts or denies your suggestion. For more information, please reference the article, "How to use the 'Suggest an Edit' feature."

Right-Hand Side - "Flag inaccurate information"

When changes within the network are suggested from the right-hand side, the BuildingConnected team reviews each suggestion and makes changes within the network. Suggested edits on the right-hand side often involve technical work like merging accounts so our team carefully handles each on a case by case basis to ensure accuracy and maintain the integrity of the network.

While all Suggested Edits are reviewed and considered, if our team is unable to validate the suggestion made, or we receive conflicting information to what has been suggested, the Suggested Edit will not be accepted. For this reason, not all suggested edits are accepted.

Please note that no email notifications are sent to the suggester or the target user if suggested edits are accepted or declined. If edits are accepted, you will notice a change on the account you suggested edits for. If you have not noticed a change within the network, feel free to contact support to inquire about our decision and provide more information as to what needs to be updated within the network.