As a general contractor using TradeTapp, you can set a qualification status once a vendor has submitted their questionnaire. Submitted questionnaires will show the status "Submitted" on the "Invitations" dashboard.

Prior to setting a qualification status, you can assign reviewers from within your company to review the application. For information on how to assign reviewers and perform a company review once you have been assigned, please reference the article, "How to assign reviewers and perform a company review in TradeTapp (General contractors)."

Please note that reviews do not have to be marked complete to set a qualification status. Any coworker with "Reviewer" or "Accepter" permissions can set qualification statuses on submitted questionnaires. If you do not have permissions to perform company reviews, please reach out to a coworker with "Admin" permissions so they can adjust your permissions.


To set a qualification status

Begin by clicking on the company you would like to review.





On the "Summary" tab, you can:

1. Click "+" or the pen edit icon in the Qualification Status section at the top-right corner.
2. Click "Edit Qualification Status" at the bottom of the "Company Review" section.




Select the qualification status (Qualified, Qualified w/Exceptions, Denied). The fields will change depending on the status you select, including setting limits for qualified vendors and selecting reasons for denial (Safety, Insurance, Other).

Select expiration date and include any summary notes. Click "Save".



Enter the internal single limit, internal total limit, expiration date, and summary, then click "Save."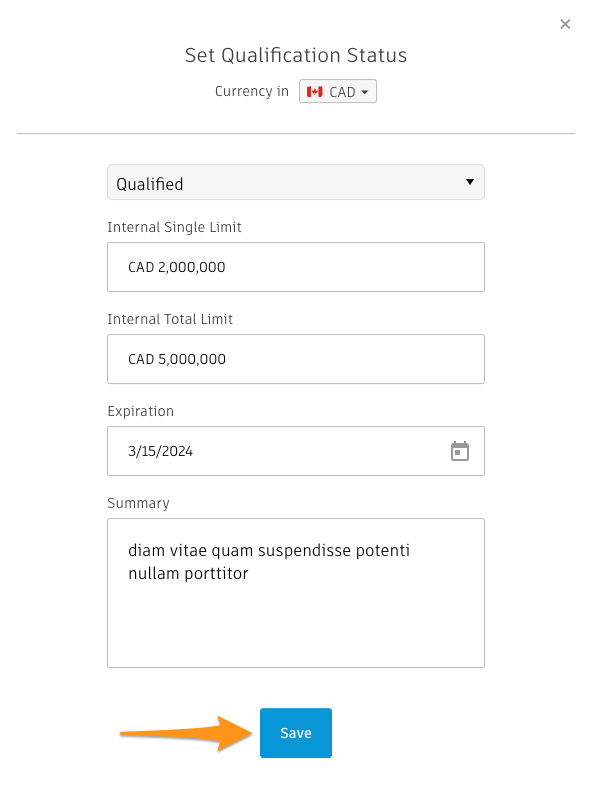 The "Company Review" section on the "Summary" tab will populate with the information entered, and the qualification status, internal single limit, and internal total limit will also appear in the top-right corner.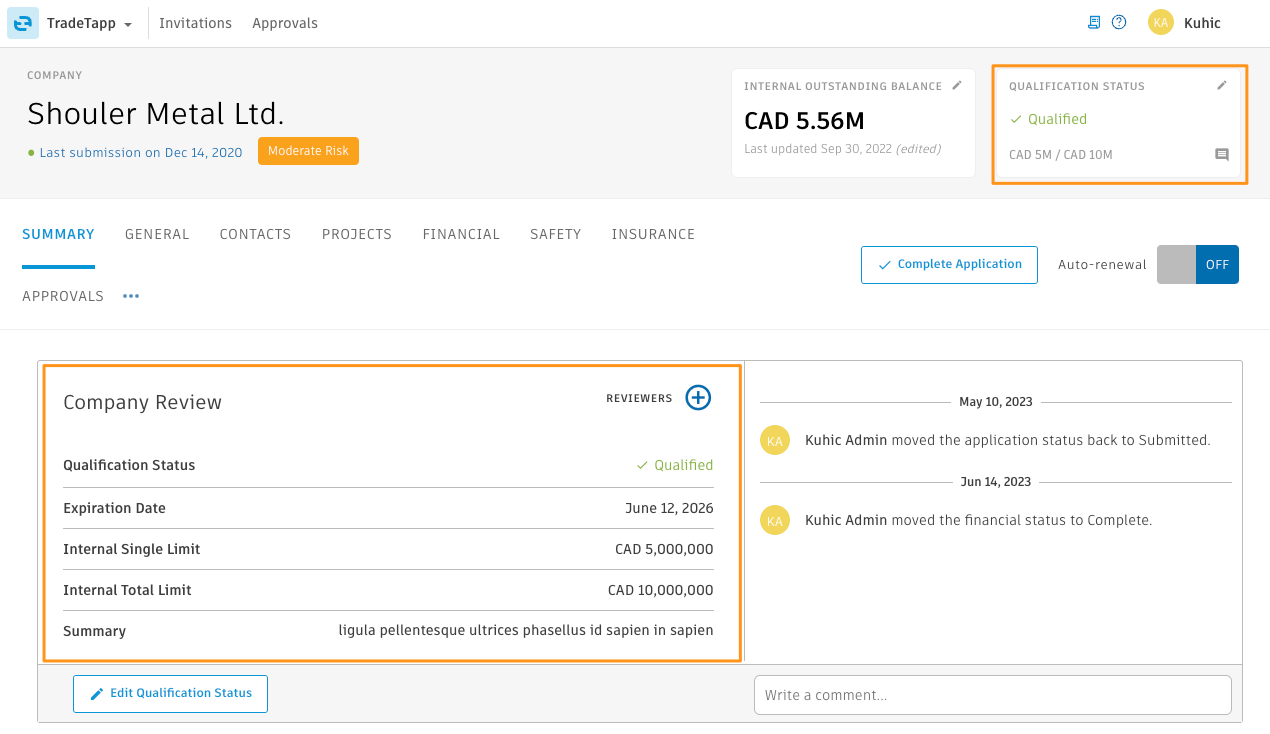 You can also hover over the "Comment" icon in the bottom-right corner of the "Qualification Status" section to quickly reference the expiration date and summary.





The activity thread will also show the qualification status and any changes as well as the date it was set and the individual it was set by.

Please note that setting a qualification status will not send an email notification to the vendor or to your coworkers.

If your company has BC Pro in BuildingConnected, qualification statuses set in TradeTapp will appear on your company's BuildingConnected account. For more information on how and where qualification statuses appear in BuildingConnected, please reference the article, "Where can I see TradeTapp qualification statuses in BuildingConnected? (BC Pro with TradeTapp)."