We are passionate about bringing estimating and risk teams closer together through technology—and a big part of that is enabling TradeTapp to share valuable data with BuildingConnected.
Each time one of the below data points are updated in TradeTapp, this information will automatically update in BuildingConnected. You can find this data in BC Pro's 'Bidders Tab', 'Bid Leveling Experience', and 'Company Profile'. Learn more about where risk data is shown in BC Pro here.
Here is a breakdown of all the risk data that is automatically available inside of BuildingConnected without having to lift a finger.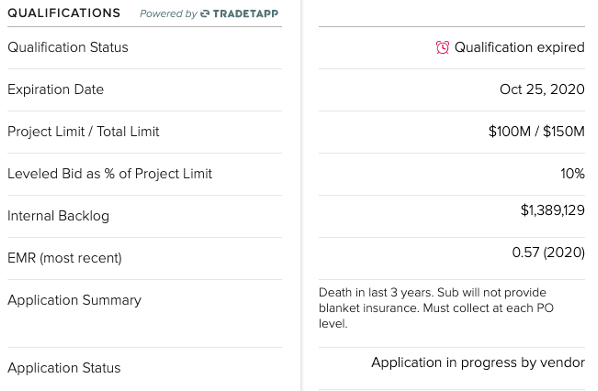 Definitions:
Qualification Status: The official designation assigned to a vendor identifying if they would be a reliable partner—based the risk team's analysis of their financial and safety related data.


Expiration Date: The specified date when a vendor's qualification status will expire.


Project Limit: A calculated capacity recommendation identifying the maximum project size a vendor should be awarded.


Total Limit: A calculated capacity recommendation identifying the maximum total internal backlog a vendor should have.


Leveled Bid as % of Project Limit: The impact, measured as a percentage, a project's workload will have on a vendor's designated project limit.


Internal Backlog: The amount of work, measured in dollars, that a vendor is contracted to do in the future.


EMR: "Experience Modification Rate" is a numerical value assigned to you by your insurance carrier. This rate is calculated based on a standardized formula and correlates directly to prior loss performance. It represents a company's claims history and safety record as compared to other companies in the same industry.


Application Summary: A synopsis provided by the risk team that shares the most important information learned during the application process.


Application Status: The most up to date status of a vendor's qualification application status.
Don't have TradeTapp? Click here to learn more.