As a subcontractor with Bid Board Pro, you can forward bid invites from your email inbox to BuildingConnected so you can keep track of all bids in one place. Our system will automatically capture as much information from the email as it can and convert it into a bid on your Bid Board.

If you are interested in learning more about upgrading to Bid Board Pro, please click here reach out to our sales team.

How to forward an invite from your inbox
Forward any bid invite in your inbox to: invites@bidboard.buildingconnected.com. Make sure that the email you use to forward the invite is the same email as the one you use for your BuildingConnected account.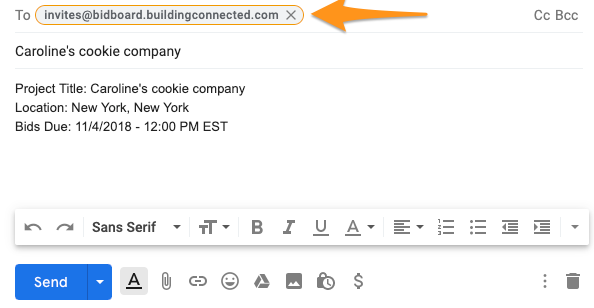 Tip: If you don't have a email to forward for a bid you want to track, you can write a formatted email to forward into Bid Board. Learn more here.


Will I get a confirmation email once the bid invite is added?
The individual who forwarded in the bid invite email into BuildingConnected can receive a series of confirmation emails as shown below.

Please note that you cannot forward in invites from general contractors that were sent from BuildingConnected to prevent duplicates. BuildingConnected opportunities are automatically added to your Bid Board when you are invited. You will not receive a confirmation email if you attempt to forward a BuildingConnected invite.
How a forwarded invite will appear in BuildingConnected
Once forwarded, the invite will be automatically converted to a bid in BuildingConnected. You can access it by finding it under your "Undecided" tab on your Bid Board or click "View Opportunity" in the email notification you receive.

In the opportunity on Bid Board:
Overview

Under the project title, you will see the label "FWD".

The client and project details are populated with what the system was able to gather from your email. If there is incorrect or missing information, you can edit it. Please review "Incorrect or missing information on forwarded bid invites".


Under "Project details", it will state who forwarded an invite and when this opportunity was created.

Forwarded email: You can see the contents of the forwarded email right in BuildingConnected.

Files: This tab will contain attachments on the message you forwarded in and any links to files if the system can extract out the link.
Messages: The forwarded message can also be viewed in the "Messages" tab. These messages are also labeled as "Fwd" and will note when and who forwarded it in.