As a subcontractor with Bid Board Pro, you can forward bid invites from your email inbox to BuildingConnected so that you can keep track of all your bids in one place.

If you do not have an email for a bid invite that you want to add to your Bid Board, you can manually add an opportunity or type out an email with your project details.

To manually add opportunities, please reference "How to manually add new bids to your Bid Board".

To type out an email, you will need to use a template per the instructions below.


To type an email to forward as an opportunity into your Bid Board

Start by drafting a new email using the email address that is connected to your BuildingConnected account. The recipient should be invites@bidboard.buildingconnected.com. Please note that the subject line can be anything you would like.




Paste in the below text into the email body. It needs to be this exact text, including the text at the top "New bid invite to add to BuildingConnected Bid Board:".
New bid invite to add to BuildingConnected Bid Board:
Project Name:
Client Email:
Location:
Bids Due Date:
Job Walk Date:
RFIs Due Date:
Project Size:


Fill out any information you want to include. The only required information is the Project Name.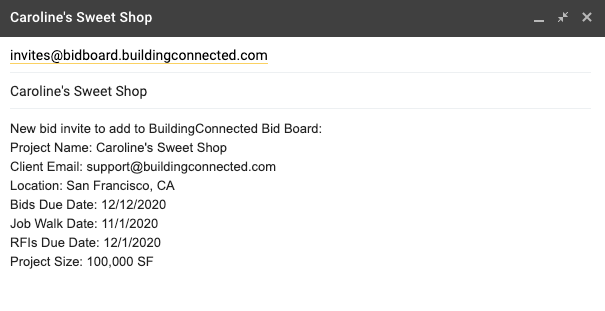 Once you have filled in all of the sections as desired, send your email.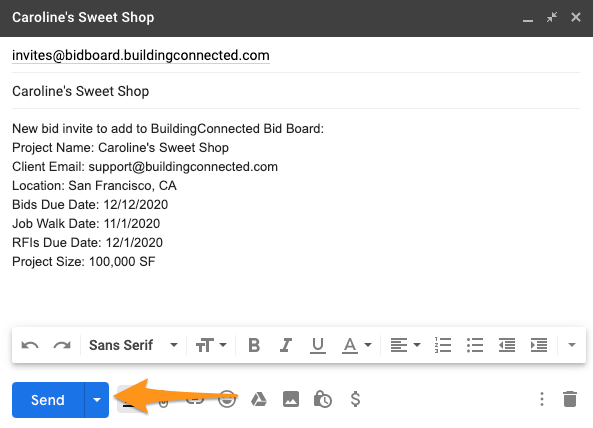 A new opportunity will be created on your Bid Board. You will receive an email notifying you that an opportunity has been created. When you click "View Opportunity", it will open up the opportunity in your BuildingConnected account with the details from your email.