BuildingConnected streamlines the pre-construction process for general contractors. The ability to create projects and to send invitations to bid is a crucial part of the service we offer. The details of a project can determine the amount of bids that are submitted to a general contractor. This is why we have put together best practices to keep in mind when general contractors create projects in BuildingConnected.

Please reference the "Projects" section of our help center for information on how to create projects, how to invite bidders and how to publish projects.


Project information
Enter as many details as possible in the project's "Information" tab to get the most accurate price from bidders. We also recommend that general contractors fill out the "Private Information" section for all projects. An added benefit of entering details into the "Private Information" section is that BuildingConnected tracks this data and uses it to provide your company with more accurate reports.

The example below shows a project in which the general contractors has entered as much information as they can into the "Information" and "Private Information" tabs.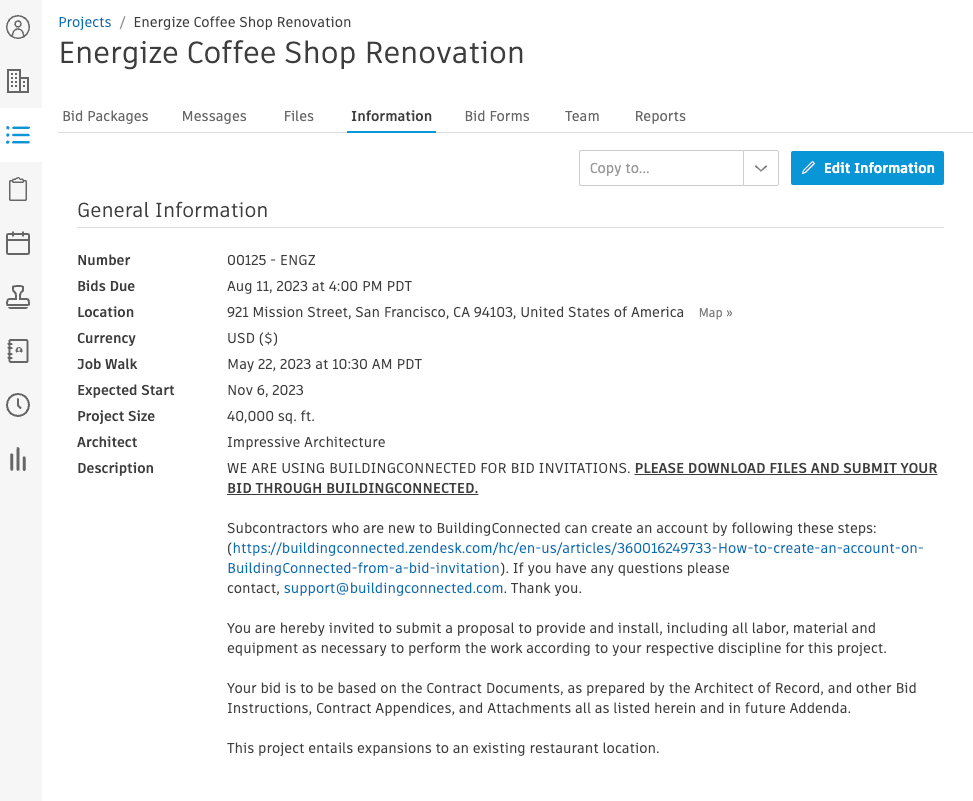 In the above example, the general contractor uses the project description to encourage subcontractors to submit their bid through BuildingConnected. The general contractor provides instructions so that any subcontractor that is invited to bid but does not have a BuildingConnected account can sign up. Adding these type of instructions in the project description is a great way to increase the number of bids that are submitted through our site.

Finally, if there are details that can't be entered at the beginning of the project, please add the missing information once it is available. Click here for instructions on how to update project information after a project has been published.


Project team
It is important that the appropriate colleagues, partners or consultants have access to the project. As a best practice, we recommend that team members, project leads and bid package leads are assigned before a project is published. Follow the instructions in this article to learn how to add team members to your project.

Additionally, please assign bid package leads before the project is published. Bid package leads appear as the person who sent the invite, so bid package leads should be assigned first. Please click here for information on the differences between project and bid package leads. Additionally, BC Pro users can find instructions on how to assign bid package leads here.

In addition to inviting the appropriate colleagues to the project team, it is important to review each project team member's notification settings.

To edit a project team member's notification settings, start from the project's "Team" tab. Find the name of the team member whose settings you wish to update and click on the "Actions" drop-down menu. Click on "Edit notification settings."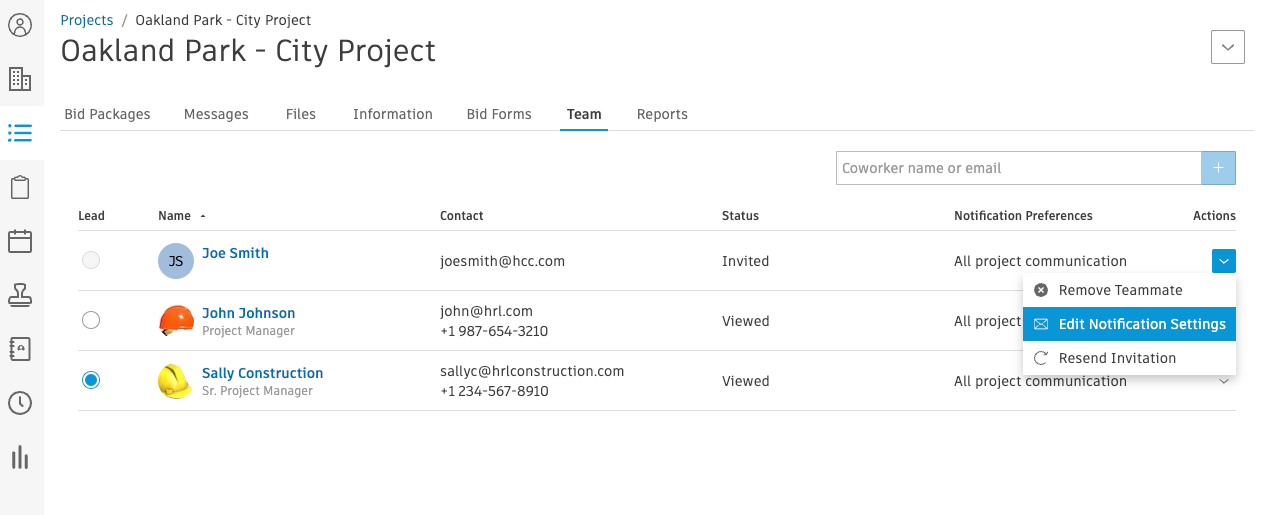 Select the appropriate level of notifications for the selected team member and then click on "Update Settings."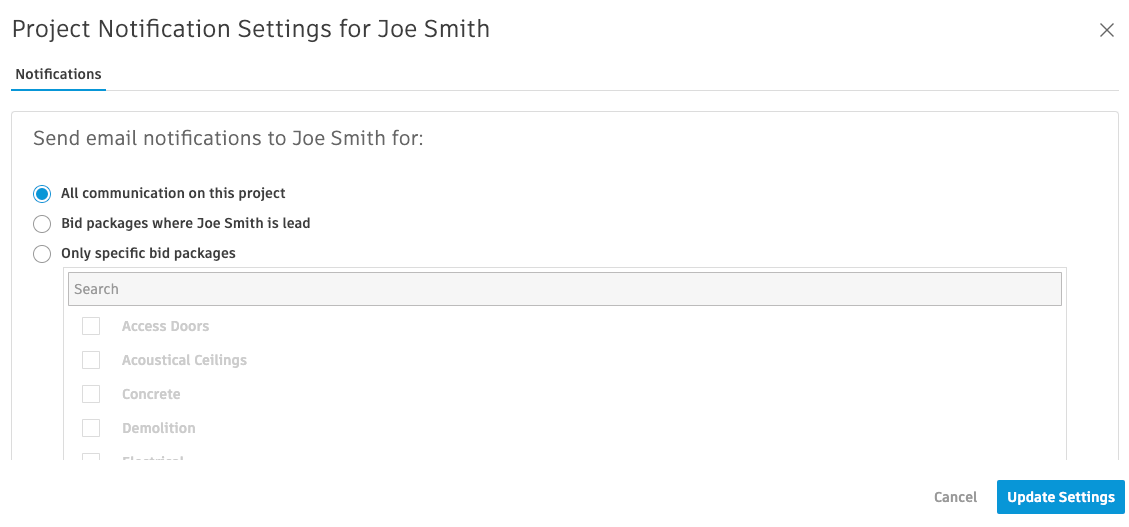 You will immediately see the updated notification settings for the selected team member.


Project and bid package files
After project information has been entered and the appropriate team members have been added to the project, proceed to upload project and bid package files.

BuildingConnected offers the ability for general contractors to create folders to help keep uploaded files organized. Click here for instructions on how to upload project files. Instructions for uploading bid package files can be found here.

Furthermore, you can find answers to frequently asked questions about project and bid package files here.


Internal project labeling and tracking
To help keep your projects organized and easy to find in BuildingConnected, we recommend that general contractors decide on a specific method to use when assigning project and bid package numbers. There is no correct or preferred way to number projects--what matters is that project numbers are consistently used across the entire company.

In the example below, the general contractor uses increasing numbers followed by the abbreviated name of the client. This convention allows the general contractor to quickly sort projects in the order that invitations to bid were sent out.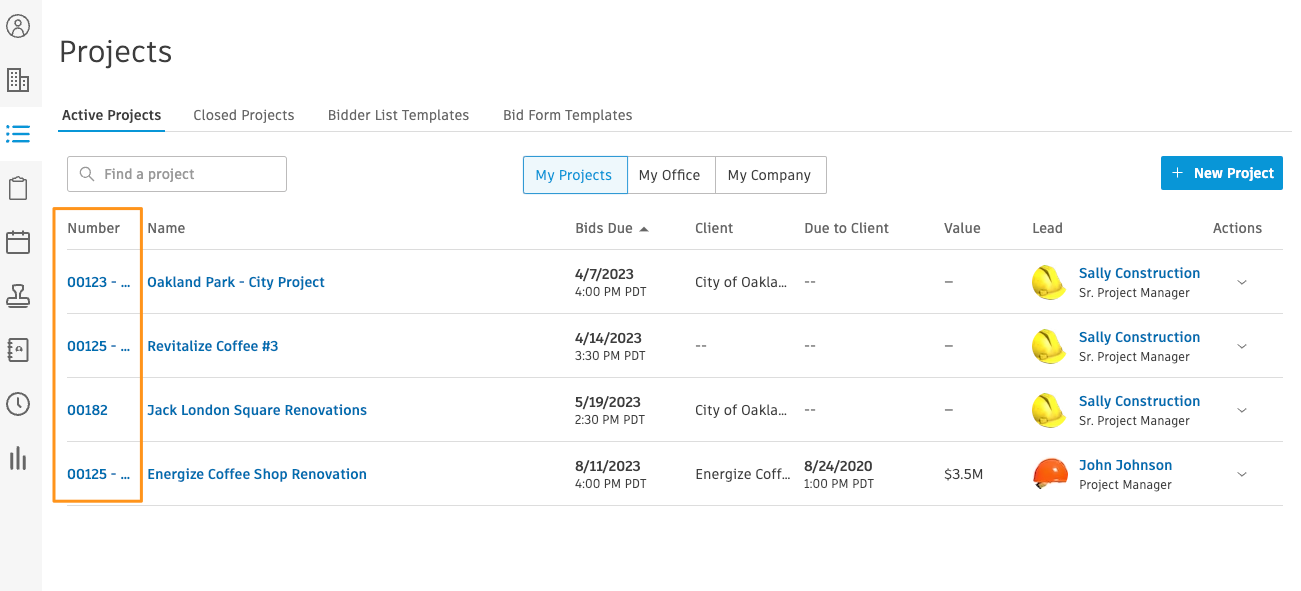 Bids submitted outside of BuildingConnected
If a subcontractor submits their bid via email, fax or over the phone, we strongly encourage general contractors to add these bids into BuildingConnected. Taking this step allows for bids to be centralized, accurate bid history information and easy analysis for BC Pro users (bid leveling).
Please click here for instructions on how to add proposals on behalf of subcontractors. BC Pro subscribers can use our Proposal Viewer to submit bids on behalf of subcontractors by following these instructions.