If you are interested in creating an account in BuildingConnected, start by navigating to https://app.buildingconnected.com/create-account.


To create an account

Enter your email address then click "Create Account Using Autodesk ID."

Why Autodesk ID?
An Autodesk ID allows you to manage your access across the Autodesk Construction Solutions products with one username and password.
Whenever you are signed in with your Autodesk ID in your browser, you will be able to log into BuildingConnected with only one click after entering your email address.
Autodesk ID uses two-factor authentication to help maintain security.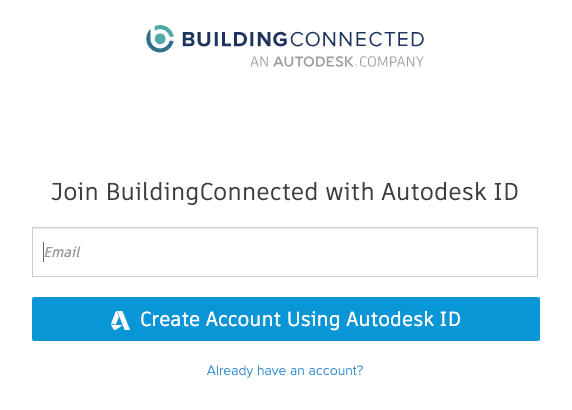 The system will check if you are already signed into an Autodesk ID in your browser. If so, your BuildingConnected account will be created immediately. Click "Continue to BuildingConnected".

Note: If the Autodesk ID shown to the left is not the account you want connected, click "Wrong Autodesk ID? Use different ID".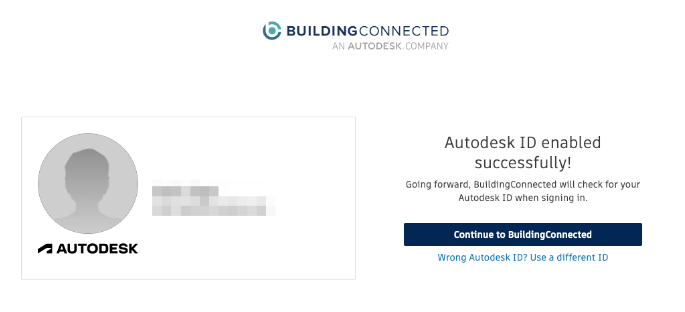 If not, you will be prompted to create an Autodesk ID or sign in if you already have an account.

To create an account, fill out all the fields and click "Create Account".

Have an existing account? Click "Sign In"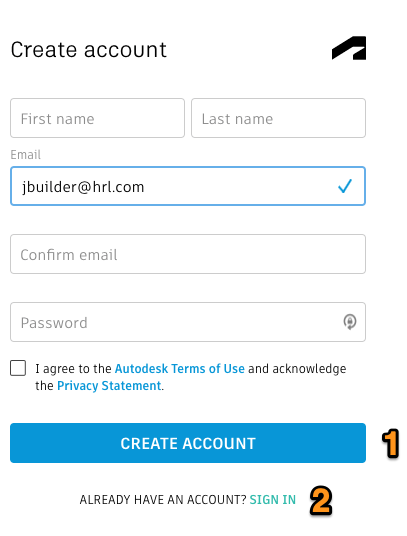 Once your Autodesk ID is created, you will need to complete your profile for BuildingConnected. You will also receive an email to verify your email address for your newly created Autodesk ID.

In BuildingConnected, continue by searching for the company you work for.
If your company populates in the search results, select your company name. If not, continue onto the following section for instruction.



Click "Next: Office Details".



Select the office that you are a part or click "Enter a new office location" at the bottom if you don't see your office. Click "Finish Account Profile".





If you are unable to find your company in the search results, click "Create new company".



Enter your company information including company name, office address, work performed, labor and enterprise type (if any) then click "Next: Finish Account Profile".



Enter your job title, work number, and a profile photo then click "Get Started."