This article explains how to submit proposals for individual bids that are part of a group.


To submit proposals for grouped bids
In Bid Board, double-click on the name of a group to open it.





Click on the "Bid Form" tab.





Use the "Previous" and "Next" buttons to navigate between the bid forms for each of the opportunities in this group. The specific client's details are listed at the top of the bid form.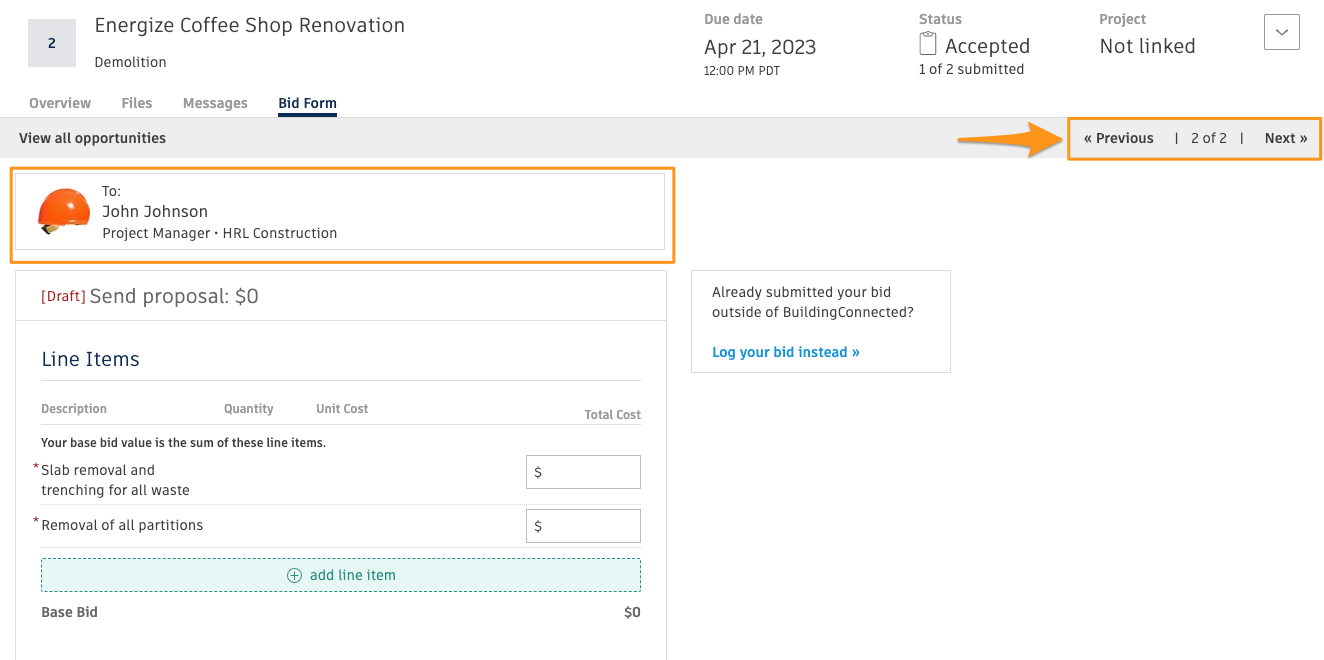 You must fill out each opportunity's bid form one at a time. Keep in mind that a value must be entered for all items that have a red asterisk next to them. You will not be able to submit the bid if the starred items have not been completed. Once the bid form is filled out, click "Preview & send".

Tip: If you already submitted your bid outside of BuildingConnected, click "Log your bid instead" on the right-side of the page. You can do this to ensure your Bid Board is up to date with your submitted bids. Learn more about logging bids here.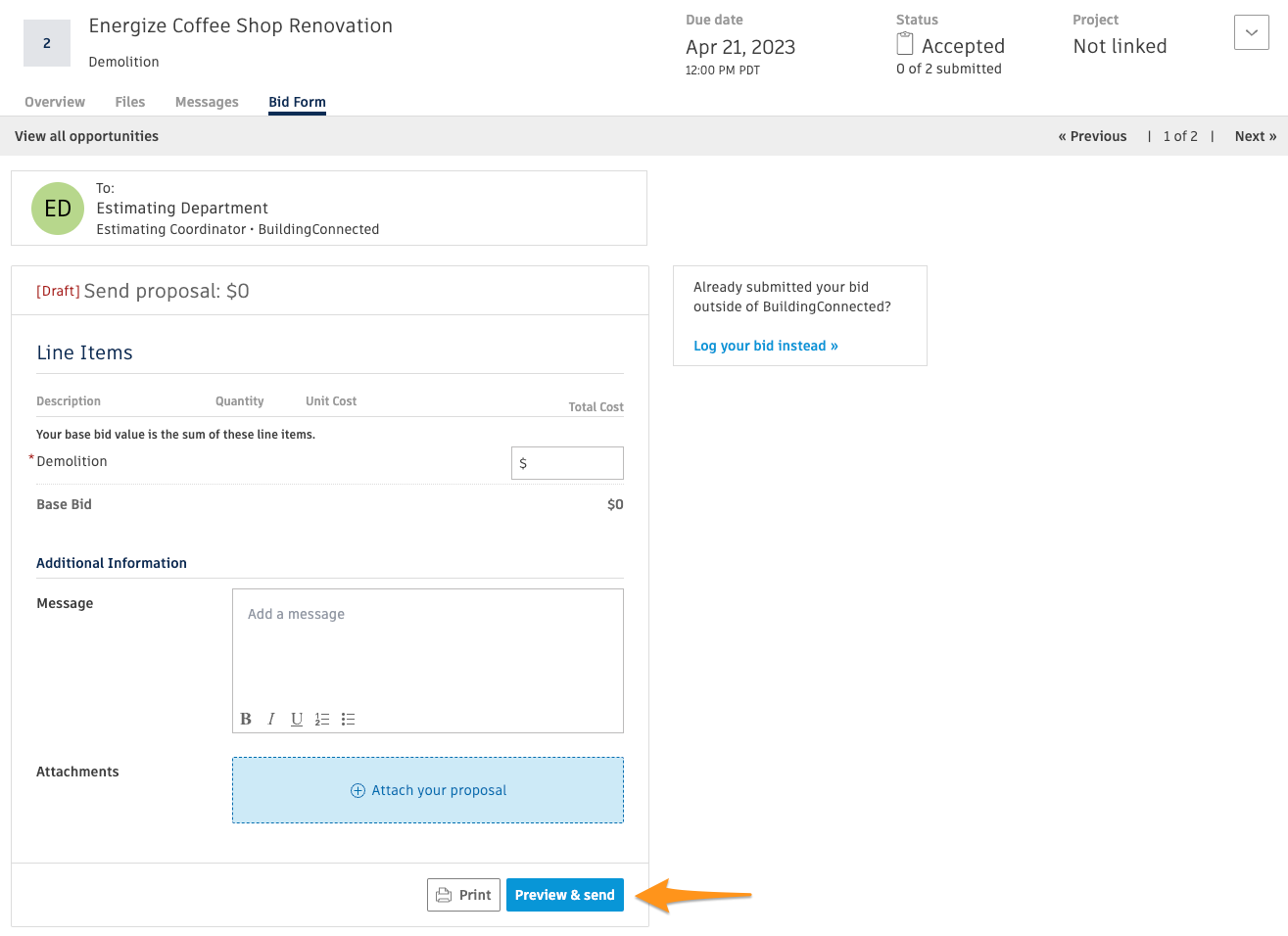 Next, you will see a summary of the information you entered. If a correction needs to be made, click on "Back to Edit" to return to the previous page where you'll be able to make the necessary changes.

If everything is correct, click "Submit". The client will be automatically notified that your proposal was submitted, and will be able to view your proposal instantly.





You can then choose to enter a follow-up-date, add tracking data, or change the group status. This individual opportunity will now be in the "Submitted" status, but the group status will not change unless you choose to change it. Click "x" to close out of the window.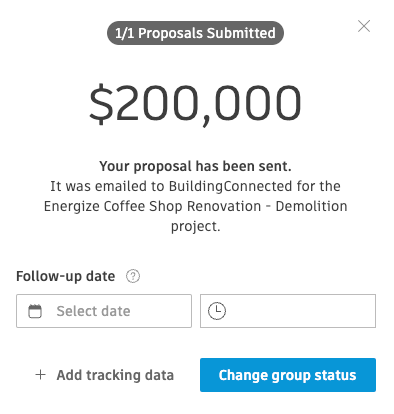 You will now see the completed bid form. To send a revised proposal at anytime, click "Create a Revision". Creating a revision means that you are sending a revised proposal to the client and they will be notified of the revision.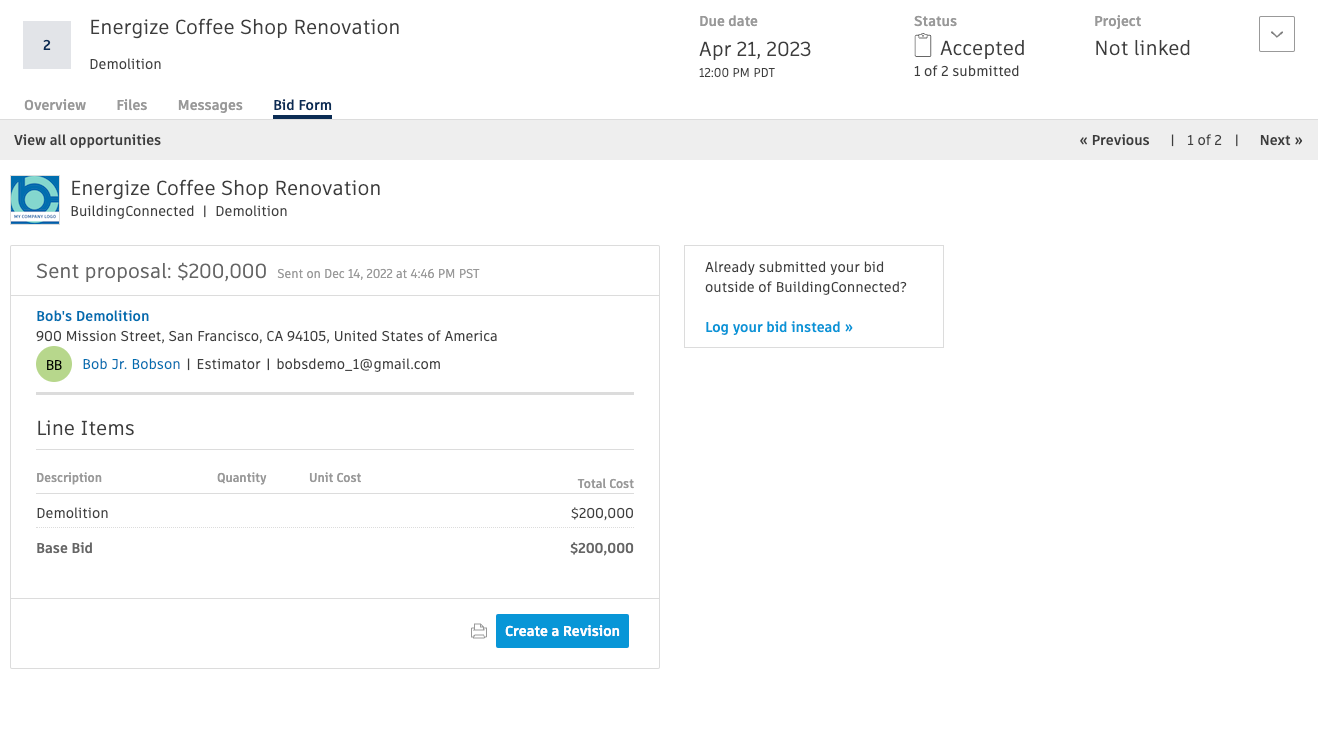 If you have additional proposals to submit for this group, you can use the "Previous" and "Next" options on the top right of the screen to access the bid forms for these opportunities.




Click on "Overview" to return to the group's Overview tab. The individual bids you submitted will now be in the "Submitted" status.

Keep in mind that accepting bids or submitting proposals for individual bids within a group does not automatically change the status of the entire group. In the following screenshot, you can see that the first opportunity is "Submitted", but the group status at the top is still "Accepted". You must change the group status separately.