As a bidder, you can edit any project information on your end for your own tracking such as if you received updated information or dates have changed that are currently not reflected in BuildingConnected.


To edit project information in Bid Board
Inside a project, hover over the field you want to edit and click on it.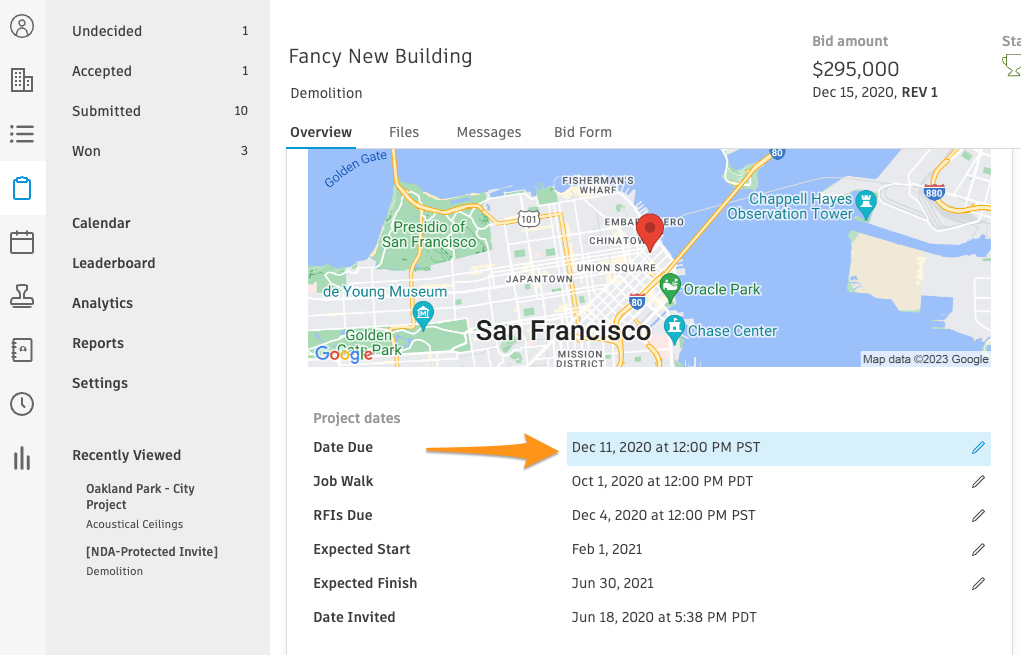 Depending on the field you select, a text box, a date picker or drop-down menu will appear. Edit the field.
Editing "Date Due"
Editing "Project Information"


Click away from the field and your edits will be saved.





Notes
The edits you make to the project details are private to you. The client will not see your updates.
Once any edit has been made, "Client [value]" will now appear under the changed field. This is the source information from the client's end so that you can always tell what information your team changed from the original. The client value may change if the client edits the project details on their end for all their bidders.
Frequently Asked Questions
What is Request Type?
For the Request Type field in "Project Details", you can select "Budget" or "Bid". This will categorize this project so that if you have Bid Board Pro, it will affect your analytics.

"Budget" is reserved for any projects where the clients are only asking for estimates and not final proposals. You will not be able to mark a "Budget" as "Won" or "Lost".

"Bid" is reserved for projects where you are competitively providing a proposal. You can mark these projects as "Won" or "Lost" and when you do so, your analytics will track your company's number of wins and losses.