As a general contractor using TradeTapp, you can revoke a vendor's invitation to qualify at any time if you no longer want a prequalification from a company or if you want to return an application into your court.

Please note that anyone in your company with an active TradeTapp account has the ability to revoke invites.


To cancel a TradeTapp invite

Note: You can only cancel a TradeTapp invite when the application status is "In Progress".
Click on the check box next to the "In Progress" vendor you would like to cancel an invite for.





The option to cancel will appear as different options depending on if the type of request (renewal or request for corrections) or if this is a brand new invite. Click the revoke or cancel option accordingly. The options that will appear should be one of the following:

Revoke Invite (new invites)

Cancel Corrections Request (Initiated from Request for Corrections)

Cancel Renewal (Initiated from Request Renewal)



Click "Continue".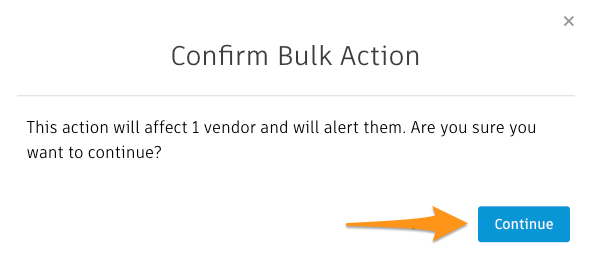 Revoking an invite will send that vendor an email notification letting them know their invitation has been canceled.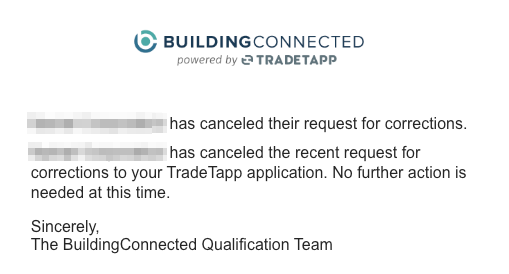 If the invitation was new and in the "Not Started" application status, the vendor will be removed from your list of invitations.

If the vendor was "Imported" or had a previous submission and was working on a renewal or request for correction, the vendor will not be removed and will only revert to its previous application status before "Not Started". Any previous submission information will be maintained.

Please note that even if a vendor's invite has been revoked, you can still re-invite them to qualify at any time. For more information on how to invite vendors to qualify, please reference the article, "Inviting your vendor's to TradeTapp (General contractors)."